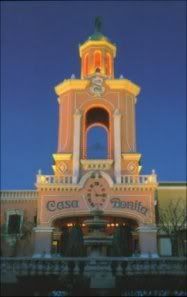 I think I had one of my best birthdays ever yesterday, even though it wasn't a terribly remarkable day.
We started off by dropping Hubby off at work since we had evening plans. I was planning on taking the kids to breakfast at either the Delectable Egg or Racine's, but I had an abrupt change of plans. Since it was too early to go to lunch, we went to Colorado Mills mall, where we found
this little gem
in black for Boo. Of course, the best part about it for Boo is that it has a nice, long, soft tag. He has a thing for tags, running them through his fingers constantly, even in his sleep, even to the point of asking me to hold clothes in the dressing room at the mall so he can play with their tags. We also found a pair of
light-up shoes
since he's just about outgrown his last pair of sneakers.
Then, off to lunch! We had taken Boo to
Casa Bonita
for birthdays one, two and three, but we were too tired after three hours of bowling to make it there for birthday four. Hubby has never understood my fascination with this place, but we went there for birthdays almost every year when I was growing up, and so even though the food is not great, it still tastes exactly the same as it did thirty years ago, and it tastes like a special occasion to me. The Casa Bonita that was in Oklahoma City has
nothing
on the Denver Casa Bonita - the Denver Casa Bonita is over 50,000 square feet, complete with a waterfall, cliff divers, a (fake) gorilla, and a mariachi band. It was slower than I've ever seen it yesterday - normally we end up standing in line at least 45 minutes to get our food and be seated, but apparently once school is in session, their crowd drops noticeably.
Boo thought Casa Bonita was the coolest place ever, looking around with his eyes open wide and his mouth agape. He loved the cliff divers, and was thrilled when one came over to talk to him. All he talked about afterwards was that mommy got to see divers and a gorilla and a man with a net (to catch the gorilla) on her birthday. Mudbug had no comment.
After Casa Bonita was Little Gym, where Boo is taking a sports skills class on Wednesdays. They're currently learning soccer, and Boo got to be the goalie!
Then it was off to the Rapids game, where the Rapids handily dispatched the Chicago Fire, 1-0. For once, Joe Cannon just didn't have that much work to do - the ball rarely even approached the goal. Mudbug amused everyone by trying to grab for my Italian Sausage dog, and Boo was his usual charming self.
After the game and putting the kids to bed, I got the coolest birthday present money could buy - a pair of fuzzy zebra skin Chuck Taylors. I mentioned several months ago that I had my eye on these, but had refrained from buying them since I knew Hubby was making notes for birthday presents. Hubby had to hunt all over for them, because they were made in an extremely limited supply and
everyone
was sold out of my size by the time he got around to shopping for them. He found a
shop
in
Canada that specializes in out-of-manufacture Chucks, and fortunately, they had a pair in my size.
I also got the best present money can't buy - a day with near perfect behavior from the kids.